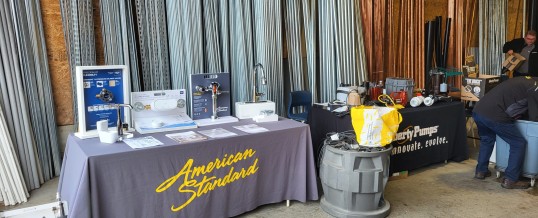 J.F. Taylor was excited to attend the Eddy Group Miramichi Trade Show and Lobster feast. It was an extremely busy crowd for the 3 hour event.
Andrew Campbell, Kevin Wynn and Glen Marr attended from JF Taylor Enterprises. Kevin Wynn performed his Liberty Pump Grinder demo which had an extreme amount of interest from all the plumbers in attendance. Glen Marr was showing the LIXIL brands of American Standard and GROHE with a lot of interest in the GROHE SMARTHOME Sense Smart Water / Leak Detector system.
We thank the Eddy Group for inviting us to this successful event.