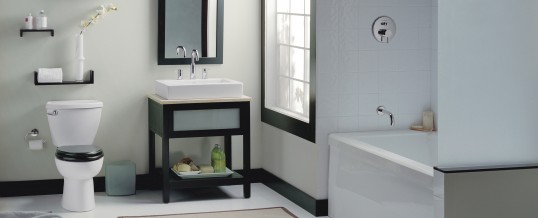 American Standard is JF Taylor Enterprise's Vendor of the Month.
As representatives of American Standard, JF Taylor Enterprises stocks many products that are available throughout Atlantic Canada. American Standard products have been installed in hundreds of thousands of homes and businesses, as well it is the most trusted brand in residential bathrooms, kitchens and commercial spaces.
American Standard Brands make life healthier, safer and more beautiful at home, at work, in the community and throughout the world. Offering total project solutions for residential and commercial customers around the world with respected brands such as American Standard®, DXV™, Safety Tubs®, Crane Plumbing®, Eljer® and Decorative Panels International®. American Standard Brands is owned by Lixil Corporation (TSE Code 5938), a global building products company. Learn more at www.americanstandard.com, or follow us at: twitter.com/AmStandard, https://www.facebook.com/AmericanStandardPlumbing
A new and improved "Where-to-buy" feature pinpoints showrooms and retailers that offer products from American Standard Brands in all parts of Canada. On the website is an even easier way of shopping for replacement parts – online. It's a handy source for such items as batteries, cartridges, filters, faucet and toilet parts. Users can sign-on for a private spot in which to record purchases, a wishlist, and generally make shopping easier and faster.
To learn more about American Standard and the products that are available head to: www.americanstandard.ca